The hindu scriptures have described that each cycle of Mahayuga has 4 Yugas – Satya, Treta, Dwapar and Kali Yuga. There are 71 Manayuga cycles in one "Manvantara". The first Manvantara was presided over by Swayambhu Manu. We are presently in the seventh Manvantara which is presided over by Vaivasvata Manu. 
Lord Vishnu has taken 24 Avatars during these 4 Yuga's. These Avatars have been mentioned below: 
Kumar Avatar (

Sanak, Sanandan, Sanatan and Sanath Kumar

) 

Yangyeshwar 

Varaha 

Narada  

Nar-Narayana 

Kapil 

Dattatreya 

Yagna Roopa 

Rishabha 

Prithu 

Hamsa 

Meena 

Chakradhar 

Koorma

Dhanvantari 

Mohini 

Narsimha 

Vamana

Parashuram 

Ved Vyasa 

Shri Rama 

Balaram 

Buddha 

Kalki 
Out of above 24 Avatar's, Lord Vishnu has taken mainly following 10 Avatars for reinstatement of Dharma,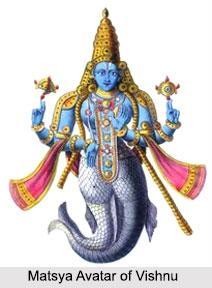 Matsya means "fish" in Sanskrit and Matsya avatar is the incarnation taken by Lord Vishnu in the form of fish. As the water boat takes anyone to the shore without any obstructions, similarly Lord Vishnu incarnated as Matsya (i.e. fish) avatar and rescued all the sacred text and Vedas during catastrophe deluge (Jal-Pralay).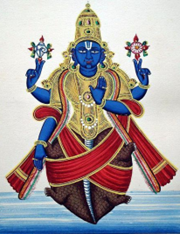 Koorma means tortoise. Lord Vishnu incarnated as a giant tortoise and saved mother Earth from destruction. When devas and asuras were churning the ocean (Samudra Manthan) to retrieve valuable things from the ocean, Lord Vishnu in the tortoise form took Mandaranchal Parvat (Mountain Mandarachal), on its back and a big spot was formed on its back. The Mandara mountain was used as an axis for churning the ocean.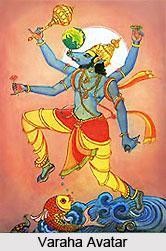 As Moon shines even with all spots in it, in the same way Lord Vishnu as Varaha (boar) Avatar on his tusks uplifted earth, which was deep submerged into the greater ocean (Rasatal).
When the demon Hiranyaksha hid the Earth, Brahma beseeched Lord Vishnu to rescue the Earth from the clutches of the demon. A small boar then emerged from Brahma's nostrils and soon assumed gigantic proportions. The boar was none other than Lord Vishnu Himself. Lord Varaha found Bhu Devi and lifted Her with His tusk.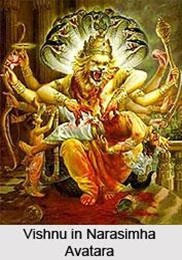 Narasimha Avatar (Nara means "man" and Simha means "lion") was the fourth incarnation of Lord Vishnu in the form of a part-man and part-lion who killed the despotic demon king Hiranyakashipu and saved beloved devotee Prahlad from the clutches of his demon father. This incarnation happened in Satya Yuga. Narasimha's head was of a lion, and the body was of a man with the claws of a lion.
Lord Narasimha ripped apart the stomach of the demon and destroyed Hiranyakashyapa's body like Bharamar (black beetle) destroys the flower.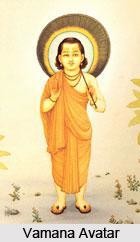 Lord Vishnu took birth as Vamana (dwarf brahmin) Avatar to destroy the ego of arrogant King Bali. The Vaman avatar of lord Vishnu is also known as "Trivikraman" which means three steps (since Vamana won the entire universe from Asura Bali in just three steps and gave it back to Lord Indra.) Lord Vaman sought land which he could measure in 3 his steps as dakshina (donation or honorarium) during a yagna performed by King Bali. Lord measured the whole 3 Lokas in 2 steps. When his step reached BramhaLoka, Bramhaji washed his leg and collected the water in his 'Kamandal'. The same water got converted into Ganga-Jal. Lord put His 3rd Step on King Bali's head, and sent King Bali to 'PatalLoka'.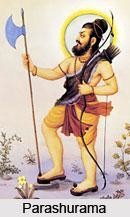 Lord Vishnu took Birth in Bhrigu lineage as Parashuram. Lord Parashuram killed all sinful Kshatriyas, who were not following Kshatriya dharma and wreaking havoc in the world.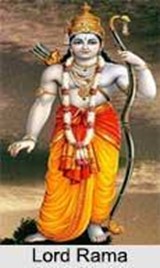 Lord Vishnu took Rama Avatar in Ayodhya in the Family of Ayodhya King Maharaj Dasarath, as his son. As Rama Avatar, he defeated and killed Ravana (demon Dasanan), using his divine weapons and by cutting his ten heads, which were thrown in ten different directions. 
Thus, Devata's Like Indra regained their Kingdom of Swarga, and Lord Rama established Dharma on earth and was thus called as 'MaryadaPurushottama'.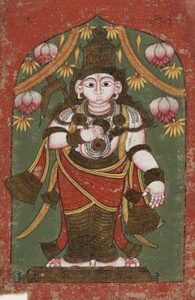 Lord Vishnu took Birth as Balrama and in this Birth as Baldev, Lord was looking very beautiful and shining as if a whole blue cloud like cloth was wrapped around him. It appears as if river Yamunaji is hiding in his cloth, being afraid of Lord Haldhar's weapon "hal" (plough).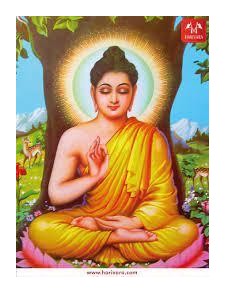 Lord took birth as Buddha, and in this avatar HE wholeheartedly criticized needless slaughter of innocent animals. Such killing and sacrifice were being done by some group of people who justified such killings as offerings in Yagna. Lord Budhha criticized such rituals and preached peace, tolerance and non-violence to human society.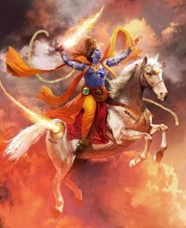 Lord Vishnu will take birth as kalki Avatar and will take the glorifying form of Lord Kalki and will kill demons and Mallechchas (wicked people) and this will indicate the end of Kali Yuga. 
According to BhavishyaMallika, at the end of four Yugas there will be one Yuga dedicated for the devotees of Lord Vishnu. This yuga will be called 'Adya Satya Yuga', or 'Sangam Yuga' or 'Ananta Yuga'.  As per BhavishyaMallika, Lord Vishnu will take Kalki Avatar to fulfill the wishes and desires of devotees from four yugas, and HE will provide happiness, prosperity, and peace to devotees for 1009 years. 
"Jai Jagannath"